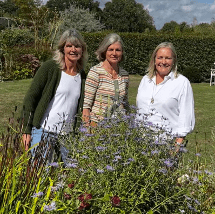 The Giving Team consists of
Sarah Rivett-Carnac, Victoria Nye, Alex Beeley and Rhyddian Roper
Selected projects supported
Introduction
WGT has a programme of Giving for which we invite applications from those organisations, or individuals that fulfil the criteria below.
Successive applications can be made to fund capital, therapy and/or education projects on an ongoing basis.
Be a Charity, Community Interest Group or Individual within Wiltshire working on the following:

Gardens or gardening related projects as therapy
Gardens as an educational resource
Professional garden training
Grants are not made for living materials i.e., plants or trees.
Applications are assessed by the WGT Giving Team and if the criteria are met, consideration will be made at the following Council meeting that typically take place on a bi-annual basis.
Applications will be given a grant, declined or more information requested. If successful, applicants will receive a letter of confirmation and asked to sign up to an agreement to provide regular project updates and access for an annual visit by a WGT Trustee.
Download our Grant Application Form here & our Terms of Giving here
Funds are raised from the annual programme of events and from generous bequests held in trust.
If you would like to discuss Legacy Giving however large or small, please contact us at [email protected]